10 STAINED GLASS PICTURES

Digital Flower Art Designs
Here are computer generated bold color images... useful for stained glass patterns. The crisp mosaic of stained glass makes these digital art images rich in texture. The apple blossom, rhododendron flower, Daylily, Rose and flower vase have incredible fine detail. These must be seen in wall print size to be appreciated!!! Go to Slideshow to see larger images!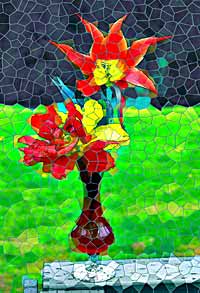 ©0266 The Red Vase
Stained Glass digital art...


The REDS


©0273 Many Tulips
©0274 The Rose
©0269 Daylily
©0272 The Face
©0267 In Memory of...
Stained Glass digital art...


The PINKS


©0275 Yellow and Pink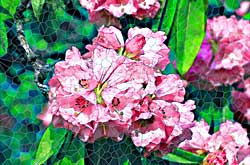 ©0270 Rhododendron
©0271 Apple Blossom
©0268 Bouquet

This entire gallery is available as a unit, or individual prints or digital files.

from "Digital Art Collections" Gallery 29...


To order - Email Paul or Call 503-625-7937


Paul and Marilyn Peck



P.O. Box 1333
Sherwood, Oregon
97140-1333




Copyright ©2000
Strength in Perspective
All Rights Reserved

Last Updated 2-1-2020