Return to Gallery | Return to Pans

Flaming Gorge National Recreation Area
Panorama from Sheepcreek Overlook, Utah

1237 Flaming Gorge Panorama from Sheepcreek Overlook
©2012 Strength in Perspective
Red rocks set against the intense color of the Green River
from "Painting Utah's Photographic Landscapes"
"This Flaming Gorge Picture" is available as
22 x 66 inch gallery wrap canvas print is $275.00
28 x 84 inch gallery wrap canvas print is $400.00
*36 x 108 inch gallery wrap canvas print is $535.00
*(Special arrangements must be made for delivery )
More CANVAS information
24 x 72 inch unmounted Satin Cloth print is $200.00
Many other sizes available; Call to order 503-625-7937
We take PayPal or personal check.
A gallery wrapped Canvas panorama has unique texture, strong color yet high detail...the framed image is lightweight and easy to hang or move to a new location as needed. Our framed canvas images ship well and you do not have the worry of including breakable glass.
Each canvas has been sprayed with durable UV protection multiple times.
This Flaming Gorge picture, a landscape digital art, began as a photo of one of Northern Utah's spectacular vistas.

Thanks to digital pen manipulations, computer print technology, and Acrylic Artists paints handbrushed on supple canvas, our vision took shape.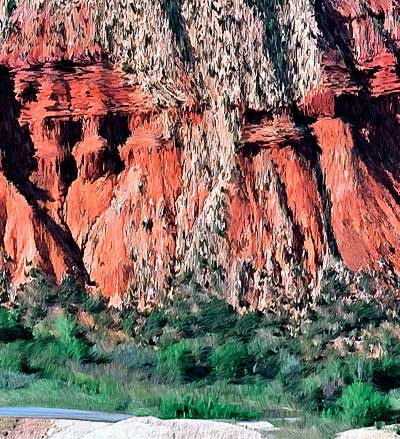 Flaming Gorge Closeup

Demonstration of strokes used to create digital art painting

call us 503-625-7937
Utah National Recreation Area Panorama
Flaming Gorge from Sheepcreek Overlook


Paul and Marilyn Peck



P.O. Box 1333
Sherwood, Oregon
97140-1333




Copyright ©2012
Strength in Perspective
All Rights Reserved



Last Updated 2-16-2017