Oregon High Lava Plains
High Desert - Cascades Photos
| | |
| --- | --- |
| | |
| ©0387 Mt. Bachelor and the Three Sisters | ©0389 Broken Top and Three Sisters |
The High Desert of Oregon

These images of lava, mountains, lakes, rivers and flowers
are available as gallery wrap canvas or a matted, framed
photo for wall art.

Click on each picture for a larger view.



©1337 Smith Rock Valley
| | | |
| --- | --- | --- |
| | | |
| ©0549 Lake Billy Chinook | ©0403 Bend's Pink Sky | ©0551 Winding to South Sister |
| | | |
| ©1338 Paulina Falls - Bend | ©1339 Scarlet Paintbrush | ©1341 Obsidian Flow |
13 Oregon Counties experience a
devastating drought. This is the lake
bed of Burn's Malheur Lake in 1988.

©1342 Crack in the Ground

©1343 Malheur Drought
National Wildlife Reserve
©1340 Fort Rock

©1345 Lava Cast Forest

©0547 Mt Bachelor Power

©0400 The City of Bend from Pilot Butte

©0791 Black Butte in the fog - Ochoco National Forest

©0832 Nursing Deer in the Squaw Creek Pines

©0388 Ranching Beneath Broken Top and the Three Sisters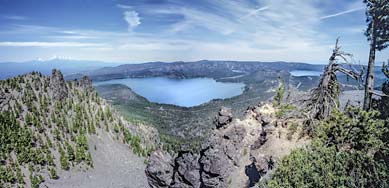 ©1344 Paulina Lake - East Lake Bend
This High Lava Plains gallery is also called the Oregon High Desert. For those who love wide open spaces, interesting geologic formations, mountain peaks and over 300 days of sunshine, this is the place for you!
Whether "Ranching Beneath Broken Top and the Three Sisters" or "Winding to South Sister" ... bird watching at "Malheur National Wildlife Reserve" or viewing "Paulina Lake and East Lake", it's ALL scenic.
The "Smith Rock Valley" at Smith Rock State Park near Terrebonne is a rock climber's paradise. For a bit of geology, go to "Fort Rock" , south east of La Pine, or Newberry National Volcanic Monument (54,000 acres). You'll see "Obsidian Flow" and other volcanic features with "Scarlet Paintbrush" dappling the way. The "Lava Cast Forest", "Crack in the Ground"and "Mt Bachelor and the Three Sisters" will round out your heady trip.
"Black Butte in the Fog - Ochoco National Forest" signals how remote the area is;
but a drive up Pilot Butte to view the "City of Bend" or a trek to "Lake Billy Chinook" will dash that remote feeling.
What a great day of exploration.
Click HERE to see matting options


P.O. Box 1333, Sherwood, Oregon 97140-1333


Copyright 2004 & 2016
Strength in Perspective
All Rights Reserved


Last Updated 11-9-2016